This is a healthy autumnal risotto recipe that's perfect for a wet and windy evening.
When it comes to vegetables, I generally subscribe to the idea that the more colours on your plate, the more nutritious the meal. And this is certainly a very colourful dish. This recipe is also vegan, and much lighter than many cheese-and-cream-laden risottos (
like this one
) that I've made in the past.
Butternut Squash & Spinach Risotto
Serves 2
300g (10oz) butternut squash
1 large red onion
2 cloves garlic
1 red sweet/bell pepper
100g (3½oz) spinach
a generous handful of flat leaf parsley
1tsp olive oil
200g (7oz) arborio risotto rice
600ml (1 pint) vegetable stock
black pepper, to taste
Peel the squash, scrape out the seeds, and cut into cubes around 1cm (½in) across. (Note: the weight given relates to the squash after peeling.)
Finely chop the onion, garlic, and red pepper.
Wash and roughly chop the spinach (though baby spinach leaves will be fine whole).
Heat the oil in a large, heavy-based saucepan.
Fry the squash, onion, garlic, and red pepper together over a low/medium heat until the squash starts to soften.
Add the rice and stock, and simmer for 15-20 minutes (check the instructions on your rice), stirring frequently and adding additional hot water as required to keep the rice from boiling dry.
Season liberally with black pepper.
Once the rice is cooked, add the spinach and fresh parsley, and stir it through until the leaves wilt.
Serve immediately.
5:2 Diet
Prepared as described, this recipe comes in at around 470 calories per (generous) serving. Most of the calories are from the rice; for a 400-calorie meal, just reduce the quantity to 75g of rice per person.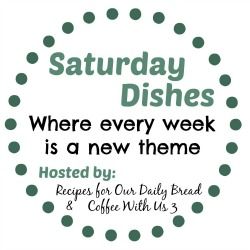 I'm linking up this recipe to Saturday Dishes for their
healthy eating week
.