| | |
| --- | --- |
| | Are you interested in learning to make your own jam? Or just looking for more yummy recipes with jam as an ingredient? Click here for jam-making tips and a collection of related recipes. |
The brambles are flowering, which made me realise with something of a start that I still had a couple of kilos of blackberries in the freezer from last year.
Also, I'd recently run out of the
blackberry & vanilla jam
that I made in the autumn. This happy coincidence put me back in the jam-making mood once more.
Following only one minor setback, in the form of an unexpected sugar shortage (seriously, how is it even possible to run out of sugar?), I had the preserving pan out and was ready to go.
The down-side of preserving in April is that there aren't a zillion apples just waiting on the tree to provide a bit of easy pectin. However, lemons are also a good source of pectin, and (if you use loads) add a really distinctive flavour as well. Since I happened to have a few spare lemons, I used those instead, and boiled the lemon halves in with the berries to make sure I got all the pectin out; the result was a really well-set jam, just as good as anything you'd get with apples (or commercial pectin for that matter).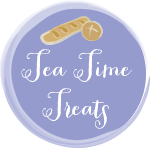 I'm submitting this jam to April's
Tea Time Treats
challenge, where the theme is
jams and preserves
. This yummy monthly challenge is hosted by Karen at
Lavender & Lovage
and Janie at
The Hedgecombers
.
Blackberry & Lemon Jam
Fills 5 standard (450g/1lb) jam jars
3 lemons
3tbsp water
1.1kg (2½lb) blackberries
1.1kg (2½lb) sugar
Zest and juice the lemons. Remove the seeds from the juiced lemon halves.
Heat the blackberries, lemon juice, lemon halves, and water in a large saucepan until the liquid boils.
Add the sugar and lemon zest.
Stir over a gentle heat until the sugar dissolves.
Fish out the lemon halves and squeeze (using a couple of metal spoons - not your fingers!) to extract any remaining juice.
Increase the heat, and boil until the temperature on a sugar thermometer reads 104°C (219°F). This took about twenty minutes on my stove. Check the set by using a small plate, chilled in the freezer.
Pour into heated, sterilized jam jars, and seal.